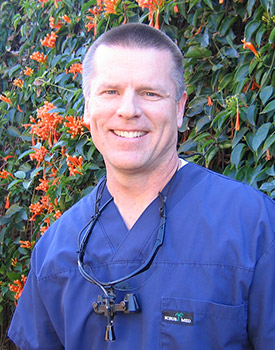 Dr. David Willes is a dental veteran, having practiced dentistry for over 25 years. He graduated from Brigham Young University in 1989, then went on to Oregon Health & Science University School of Dentistry, where he graduated in 1993. One year later, he completed his general dentistry residency at the Portland VA Medical Center.
He practiced dentistry for several years in Oregon before returning to his home state of California to open Willes Dental in Encinitas in 2009. In 2016, Dr. Willes proudly opened our second location in Escondido, where he and Dr. Gloria Tengonciang help our patients build healthy smiles.
Earning the trust and respect of our patients, the community, and others in the dental profession is a top priority for Dr. Willes because he wants to provide the best care possible. It's why he has worked so hard to complete advanced training in several areas, including multiple dental implant systems, ClearCorrect orthodontics, and Lumineers veneers.
Dr. Willes is also passionate about giving back to the community. Over the years, he has:
Donated his dental expertise to Liga International, The Flying Doctors of Mercy to provide free dental care to poverty-stricken areas of rural Mexico
Participated in the Project Mercy House built in Tijuana, Mexico
Served as a member of Rotary International since 2011
Remained active in the LDS Church
When he is not hard at work keeping SoCal smiling, he enjoys taking full advantage of living near the California coast. He loves spending time with his family on the beach, boating, wakeboarding, surfing, and just being outdoors.
Here are some other fun facts about Dr. Willes:
He and his wife have been married for over 30 years and have nine children.
He is a Lieutenant Commander in the US Navy and has been in the US Navy Reserves since 2012.
He was drafted and played on the Philadelphia Phillies baseball team.
We encourage you to visit our office and get to know Dr. Willes even better. He loves meeting new patients!